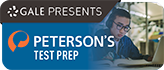 Preparing for the SAT?
Testing & Education Reference Center (TERC) is designed to offer the most up-to-date test preparation available for the SAT. More benefits include:
Enhanced test preparation through full-length practice exams and diagnostic pre-tests for the AP, ACT, SAT, PSAT, Ged, HiSET, and TASC
Better college planning through an easy-to- search database of more than 4,000 accredited schools, including academics, admission requirements, campus life, tuition, and more
Financial aid essentials through the ability to quickly search for scholarships, calculate college savings, pinpoint tuition costs, and more
Sharper career focus through an extensive database of standardized tests, such as the Holland Codes, a Resume Builder, and a Virtual Careers Library.
Have a question? Ask a librarian!
Writing a paper?
Try Easy Bib, an online bibliography and citation maker.
Need to find more information from wherever you are?
Get your library card number and PIN ready to log into to these great online resources.