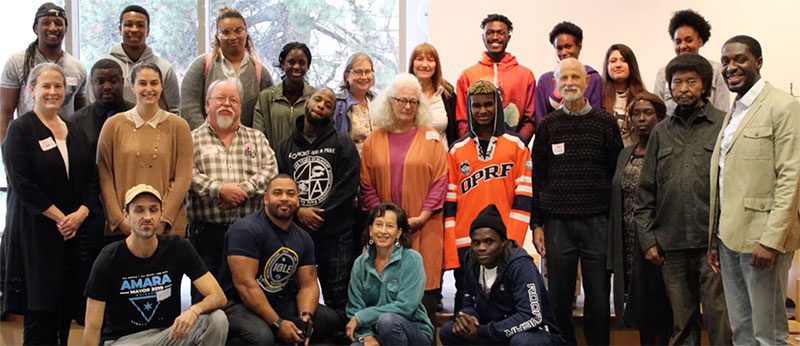 2020 theme: The Medicine Wheel: Balancing Humanity
We're excited to announce that Oak Park's third annual Restorative Justice Conference will take place virtually, all throughout October. This year's theme is The Medicine Wheel: Balancing Humanity (watch the video and see below for more on this theme).
The goal of this year's conference is to provide the community with strategies to cope in these extreme times. "2020 has been very difficult for everyone," says the library's Manager of Teen Services Stephen Jackson.
"This year's conference is about ways people can support themselves and others, find balance, and find tools just to connect," Jackson says. "Connection is something so many of us need right now."
As in past years, this year's conference will bring together local activists and teachers, community leaders, and passionate individuals.
Together, we will dive deep into restorative practices, which include bringing empathy to a situation, seeking first to understand, and helping people without doing further harm. Whether they're applied in a criminal justice, school, family, or broader community setting, restorative practices take a group perspective.
Sign up to get email updates: Workshops, peace circles, self-care & more
All October, the conference will be held over Zoom. Each week, we'll explore one of the four quadrants of the medicine wheel.
Opening Ceremony: Friday, October 2, 6-8 pm
Week 1: Mental (October 7 & 9)
Week 2: Spiritual (October 14 & 16)
Week 3: Emotional (October 21 & 23)
Week 4: Physical (October 28)
Closing Ceremony: Friday, October 30, 6-8 pm
Registration for individual sessions is coming soon! In the meantime, sign up below to receive weekly email updates on workshops, peace circles, self-care and more.
More about this year's theme: The medicine wheel
The medicine wheel inspires this year's conference because it's an ancient healing method of acknowledging the balance of the four components of humanity: mental, spiritual, emotional, and physical. "Indigenous cultures used this method to heal any dis-ease in the community," Jackson says.
As physician Louis T. Montour, Mohawk of the Six Nations Iroquois Confederacy, writes in The Permanente Journal (PDF), "In Native American language, 'medicine' meant power, a vital energy force that was within all forms of nature. It also meant 'knowledge' because knowing gave the 'knower' power to do, to achieve, and to attain."
Montour adds that the medicine wheel is not unique to Mohawk culture: "It is derived from universal principles which are found within all human groups: sharing, caring, kindness, humility, trust, honesty, and respect."
More about past conferences